A Journalist's Guide To Opinion Polls
Journalism is not the easiest of jobs. It often requires the ability to write in double quick time accurate and engaging copy about an unfamiliar subject that requires some technical expertise to unravel. When it comes to the results of a poll, this means the most attractive course of action can often appear to be to trust that the press release that has been issued is a reasonable interpretation of the evidence that has been collected.
Maybe it is – but maybe not. But how can anyone tell?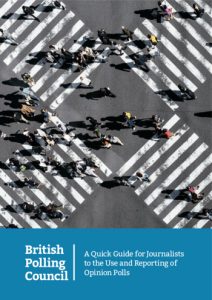 The British Polling Council has now published the third edition of its
a brief guide to the reporting of polls.
This is intended to help any journalist, however unfamiliar they may be with the practice of polling, undertake a critical evaluation of the evidence before them. In just five minutes, it introduces the reader to five crucial questions that should be asked of any poll and explains what to look out for when assessing the answers.
This third edition includes a new briefing section on MRP (multi-level regression and post-stratification). The officers of the BPC would like to thank Professor Chris Hanretty for developing this explainer.
The five questions are:
How and when was the poll conducted?
Who was interviewed?
How were they chosen?
Who sponsored or paid for it?
What questions were asked?
As part of its work in promoting the transparency of polling the British Polling Council seeks to promote better understanding and interpretation of polls, and the guide has been produced in that spirit. Some of the issues covered by the guide are discussed further in this video.
For further details, please see our press release.
Further Resources
IMPRESS, the UK's independent press regulator, and the Market Research Society have published a consultation on guidance for journalists reporting on opinion polls.
Further resources: polls and election data – guidance for media and journalists
The MRS web page also provides access to a range of other resources to support journalists and the media in their reporting of opinion poll data.
The National Council for the Training of Journalists has launched a free e-learning course, which is designed to improve the quality of poll reporting. This was developed in association with the British Polling Council and Market Research Society.