A British Polling Council Seminar on developments in opinion polling
2 November 2022
1.30-5pm
St Matthew's House & Conference Centre, 20 Great Peter Street, Westminster SW1P 2BU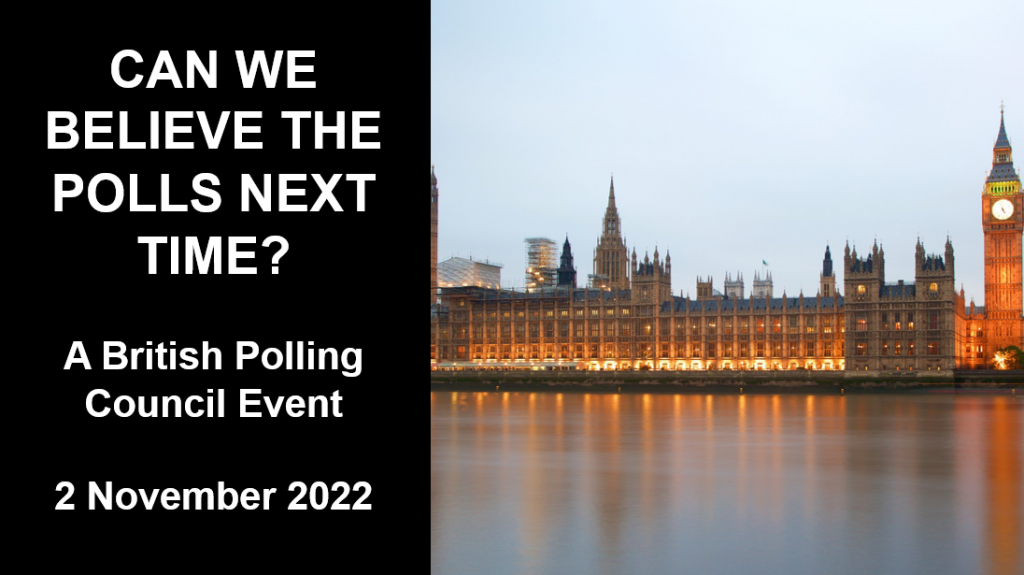 It is now nearly three years since Boris Johnson won an 80-seat majority at the 2019 General Election. The intervening period has seen Britain leave the European Union, undergo the challenges of the coronavirus pandemic and, just a few weeks ago, replace its Prime Minister.
With the next election now closer than the last, the British Polling Council is holding a special seminar to explore the latest developments in opinion polling.
The programme is designed for anyone interested in understanding and using opinion polls: market researchers, academics, journalists, party organisations – and of course the public at large.
On the agenda:
Lessons from the 2019 General Election
The new companies on the British polling scene
Developments in MRP polling
New analysis strategies
Panel discussion on The State of Polling Today
Our speakers include:
Professor Sir John Curtice, President of the British Polling Council
Gideon Skinner (Ipsos)
Adam Drummond (Opinium)
Chris Holbrook (Find Out Now)
Erik Larsen, People Polling
Michela Morizzo, Techne
Professor Ben Lauderdale (University College London)
Martin Baxter (Electoral Calculus)
Professor Paula Surridge (University of Bristol)
Professor Patrick Sturgis (London School of Economics)
Dr Mark Pack, President of the Liberal Democrats and author of Polling Unpacked
Chair: Jane Frost CBE, Chief Executive of the Market Research Society
Registration starts from 1.30pm, with presentations starting at 2pm.
The seminar will conclude with a drinks reception at 5pm.
We do hope you will be able to join us.
Register Here:
Taking the Electoral Pulse Tickets, Wed 2 Nov 2022 at 13:30 | Eventbrite